Lustra™ Unleashed: The Trendsetting Matte Palette for Your Garage Doors
– By #South Dakota Overhead Doors

While on the quest for the ideal garage door, customers often ask us – "do you have any colors that have less shine?" With the rising popularity of black garage doors, the demand for a matte finish has also surged. Now, we can answer that question with a "YES!" thanks to Clopay and their new Lustra™ finish collection.

Matte Magic

Renowned for pioneering innovation and introducing cutting-edge products, Clopay stands as the industry leader. They consistently push boundaries and always listen to what the consumer is looking for. This month, we are delving into the newest and most remarkable matte finishes for garage doors!

Clopay recently unveiled an array of fresh color options for three of their collections: "Modern Steel", "Gallery Steel", and "Bridgeport Steel". Now featuring the striking Lustra Black, Charcoal, and Silver finishes, these additions will stop your neighbors in their tracks!



The Lustra collection stands out with its smooth, textured steel surface, providing not only a visually appealing aesthetic but also a tactile quality that adds a unique touch to your garage door.



The Black and Charcoal colors in the Lustra collection boast an exquisite matte finish, portraying a sophisticated and contemporary appearance that enhances the overall aesthetic appeal of your garage doors.


The Silver Lustra option presents an alluring brushed metallic look, imparting a touch of refined elegance and modernity to your garage doors – ensuring they provide both functional durability and an overall aesthetic charm of your property.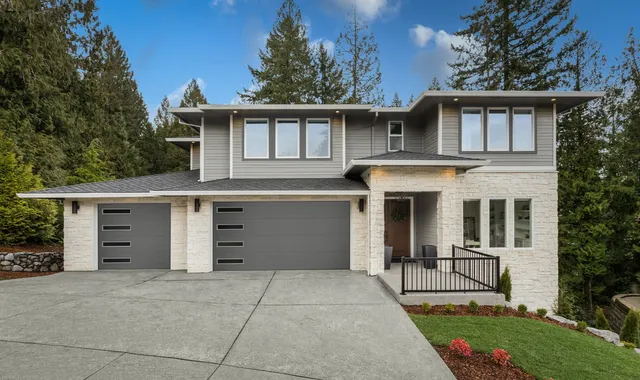 Black, Charcoal, and Silver Garage Doors Redefined

Available on three of their residential collections, the Lustra collection can transform your traditional-style home into the modern age. Whether opting for the refined Bridgeport Steel recessed panel design to breath fresh life and longevity into your colonial-style residence or choosing the Gallery Steel stamped carriage panel design for a timeless update, the collection provides versatile options. Furthermore, for those embracing modern architectural aesthetics, the sleek and sophisticated Modern Steel contemporary design seamlessly complements your cutting-edge home.

Keeping You On Track!

Since the new colors were launched, we have already completed a number of projects featuring the Lustra Black Modern Steel design which you can view on our "Residential Gallery"!
As you embark on your quest for new garage doors, be sure to connect with the knowledgeable professionals at South Dakota Overhead Doors. We can provide you with samples and even digital mock-ups of the styles you favor, ensuring a comprehensive exploration of your preferences!
Call us today at (605) 355-1500 to receive your free quote!
---
Last Modified: