Keeping Your Home on Track with Stylish Garage Doors in 2022
– By #South Dakota Overhead Doors
2022 is officially here and South Dakota Overhead Doors is committed to keeping our customers and followers on track for the New Year with our lineup of new garage doors. From modern-style garage doors to classic silhouettes, our trusted vendors at Clopay Garage Doors and C.H.I. Overhead Doors offer some of the best garage door styles you'll find anywhere – all built to last decades.
Whether you're looking to increase the curb appeal of your home and property value, or simply want a change of pace for your dated garage door, we're here to share some of the latest and greatest styles and finishes from our vendors that are certain to make a splash in 2022.
Clopay Modern Steel Garage Doors
It goes without saying that modern garage doors and stunning paneled windows go together better than peanut butter and jelly. With their subtle, sophisticated look, Clopay's Modern Steel garage doors perfectly complement any style of home, whether contemporary or mid-century modern. Available in an enormous variety of door design configurations, the Modern Steel garage door stands out in aesthetic and product quality, thanks to Clopay's tried and true commitment to offering homeowners and business owners garage doors that are guaranteed to last. Most recently, Clopay's launch of their smooth matte paint finish, Lustra, upped the ante on delivering stunning garage door color variations that stand out. If you're looking to elevate the exterior of your home, we highly recommend pairing the Modern Steel door with Lustra. Its adaptability alone makes it one of the best garage doors to invest in.
C.H.I. Overhead Doors' Overlay Carriage House Garage Doors
Pairing the right garage door with the exterior of your home can be as difficult as finding the perfect wine to pair with a meal. However, with C.H.I. Overhead Doors' Overlay Carriage House garage doors, finding the perfect match is incredibly simple. Available in steel, wood, and fiberglass variations, the Overlay Carriage House Door offers a sense of rustic charm that'll make any home stand out. It's this door's traditional aesthetic and versatility that makes this garage door one to look out for if you're looking to give your home an upgrade with a new garage door.
Clopay Avante AX Garage Doors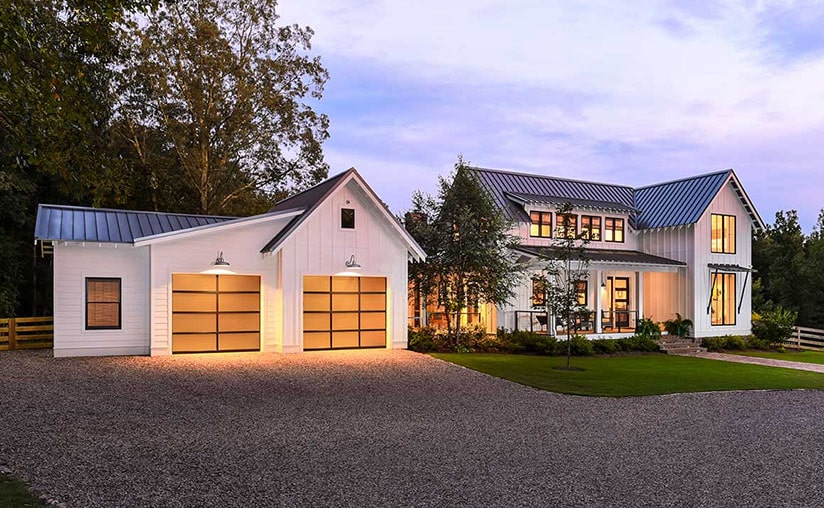 Named one of the Top 100 Products of 2021 by Pro Builder Magazine, Clopay's Avante garage door style is a sight to behold. Meshing aluminum framing with modern glass, Avante is a fabulous modern touch to any home, making it one of the best garage doors. Clean in look and durable in build, Avante is the perfect accessory to a modern-style home and can be customized to match the level of privacy you're looking to achieve in your garage (there's seriously so many glass variations to choose from). Plus, using Clopay's Color Blast color matching technology, you can match Avante to nearly any siding imaginable.
C.H.I. Overhead Doors' Planks Garage Doors
We'd like to say "Plank You" to our partners at C.H.I. Overhead Doors for offering the masterpiece that is the Planks style garage door. Offering a wide variety of wood grain colors to elevate the warmth, appeal, and beauty of your home, Planks' horizontal grooves exude elegance in creating subtle dimension to your home – all while standing out with their top-of-the-line durability. What's more, whether you're looking to achieve complete privacy in your garage, or want your garage door to stand out even more, the Planks style allows for the integration of gorgeous glass panels in short, long, or oversized sizes, or even a lack of windows completely. Another perfect pairing for modern homes, the Planks garage door style is becoming increasingly popular in new build construction and home renovations. If you like the design of the Planks style, we also recommend checking out Clopay's Canyon Ridge Modern Doors, which offer a similar look and feel.
Let Us Help You Find Your Dream Doors!
Trying to find the perfect, new garage door for your home or business can be complicated on your own. With the help of the team at South Dakota Overhead Doors and our over 25 years of experience in designing custom garage doors for our customers, we make the process painless! Give us a call today at 605-355-1500 or visit us at our showroom on West Chicago Street in Rapid City, South Dakota to order your new garage doors.
---
Last Modified: