Garage Door Trends and Style Guide
– By #South Dakota Overhead Doors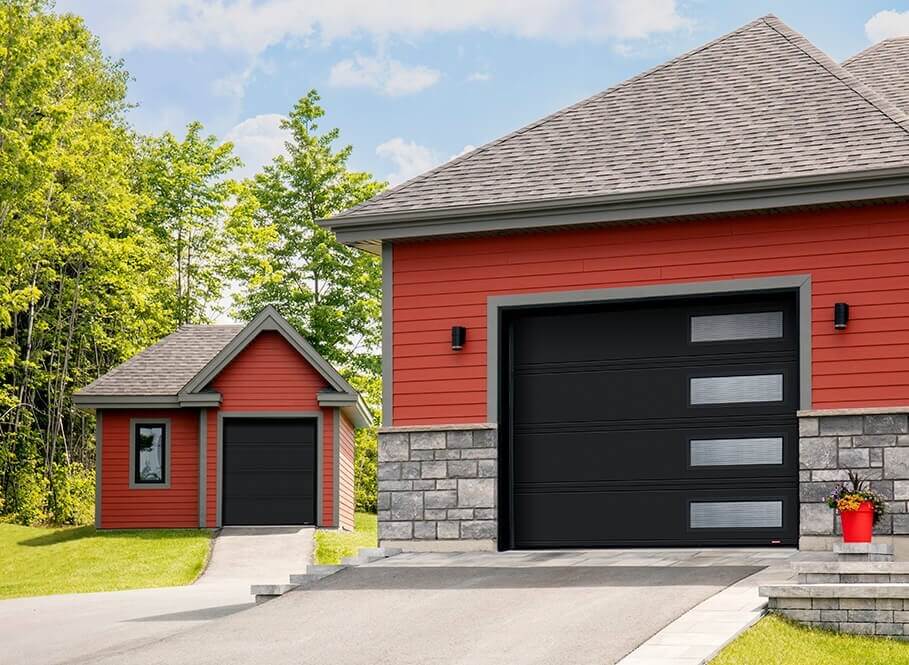 Garage doors are an important role in the exterior of your home. They are the largest moving door on your home and can add unique curb appeal. Having a trendy style is crucial when it comes to making your home external aesthetics stand out. As we launch into the New Year of 2023, let's take a look at the latest garage door trends and styles of 2022.

1. Durable Material Garage Doors – This type of garage door is commonly made of steel. If you are looking for a style that is low maintenance, inexpensive and durable, this is the garage door for you! Steel Garage doors are a wonderful way to add detail to your home that can last for decades. Additionally they come in many unique colors and mix well with other styles to achieve a timeless aesthetic.

2. Wooden Garage Doors- One of the biggest trends in 2022. Wooden Garage doors come in many styles of wood that will make your home look cozy, natural and desirable. Wood is a renewable material which means you'll be making your home eco-friendly with this garage door style. Plus if you get bored of the look you can repaint or stain. Wooden Garage Doors tend to be higher in cost and require additional maintenance, which should be considered before purchasing them.

3. Plank Garage Doors- The perfect touch for a contemporary design with durability and they are easy to maintain. People passing by your home will notice this stunning modern look. Additionally Plank Garage Doors will make your home look and feel like an expensive mansion as there are endless options for customizing this garage door style.

4. Full Glass Garage doors – Such a fashionable style and trend in 2022 known as the see-through doors. They are made from metal framing and large glass panels creating a sleek and modern look on the exterior of your home. There are many customizable options for the type of glass to enhance privacy.

5. Garage Doors with Windows- A stunning touch of natural light shining in through your garage adds to the overall look of your home and adds value to your curb appeal. This look can be added to almost any style of garage door and transforms the exterior of your home. With many options to choose from, you will be sure to find something that fits your style.

6. Black Garage Doors- The newest trend in homes today – a real head turner! Black garage doors are painted using a thermal reflective paint to reduce heat absorption and retention. Black Garage Doors fit into any home type, regardless if your home is colonial, traditional or modern.

7. Wood-Look finish Garage Doors- Garage doors that are painted to simulate wood are budget friendly and low maintenance without paying the "real-wood" price. These allow your home to stand out, and with many customizations available you can choose something that feels unique to your space.

8. Carriage-House Style Garage Doors- Want a timeless, rustic vibe for your home? Something that looks inviting and warm, plus keeps your garage protected and safe? Carriage-House Style Garage Doors will do exactly that. They come in various styles and sizes, from light and dark wood shades, custom paint options, and endless designs, you can even add details like steel or glass to create the perfect garage door. Use a color pallet to match your entire house aesthetic to create a coordinated and harmonious environment.



There you have it, 8 of the hottest trends and styles in 2022. We cannot wait to see what will be coming available in 2023! To keep up with announcements of any new products, make sure you follow along on our blogs and "like" us on Facebook! When you are ready to revamp your garage doors, give us a call or fill out our online consultation form. We look forward to helping you with all of your garage door needs.



---
Last Modified: