Clopay's Doors Featured on HGTV's Barbie Dreamhouse
– By #South Dakota Overhead Doors

We are tickled PINK that Clopay's Canyon Ridge Louver garage doors were featured on HGTV's Barbie Dreamhouse Challenge! The four-part series kicked off days before the Barbie movie hit theaters in July. Eight teams competed and transformed their pallid Southern California homes into vibrant life-sized Barbie Dreamhouses.
Clopay Provides its Pink Touch
During week three of the competition, Keith Bynum and Evan Thomas from Bargain Block gave their dreamhouse's front exterior a nostalgic 1990s vibe adding two of Clopay's pink Canyon Ridge Louver-style garage doors. The front yard also features pink flamingos, a pink water feature, and a giant pink Barbie handle on its roof to enhance its toy-like, portable appearance. Clopay's pink Louver-style garage doors add to the house's overall Barbie-esque aura - just see for yourself!



Dreamhouse before: so bland and beige




Dreamhouse after: so bold and Barbie-esque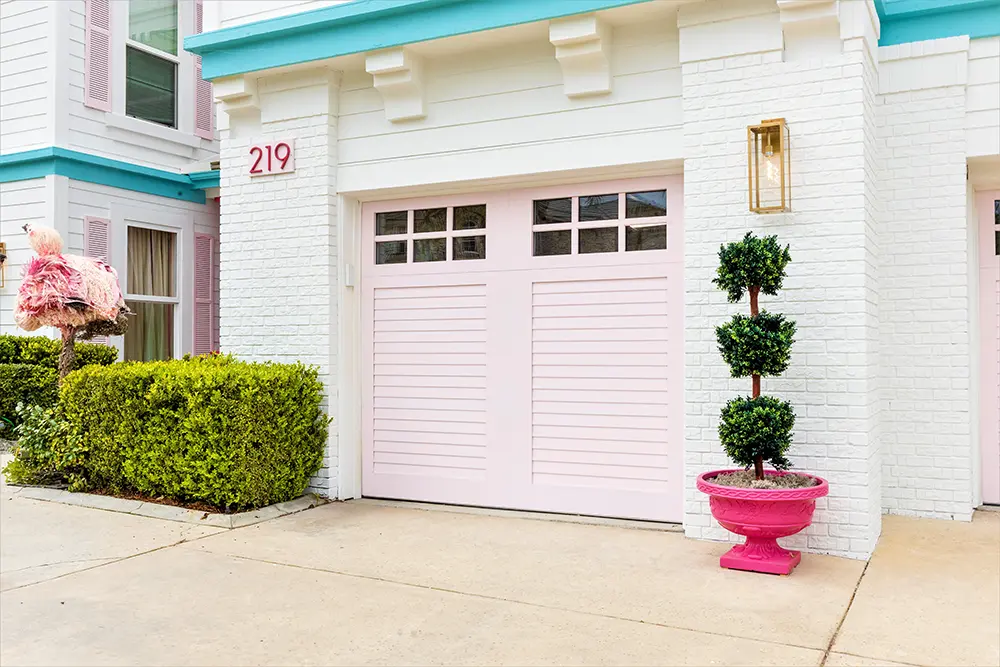 Upgrade Your Dreamhouse with Clopay Doors
Barbie clearly upgraded her home's curb appeal, and so can you! Clopay offers a wide assortment of Canyon Ridge garage doors including styles of Carriage House, Chevron, Modern, and, Barbie's favorite, Louver. But if pink is not your cup of tea, no worries. Clopay's Canyon Ridge garage doors can be crafted exactly to your liking. Each style of door includes its own list of customizations including door designs, window designs, colors, and materials tailored to you and your home's desires. Plus, Canyon Ridge doors are made with polyurethane insulation which is extremely beneficial for the quality and durability of your garage as we approach this winter season.


Explore everything that Canyon Ridge garage doors have to offer you >> https://literature.clopay.com/pdf_files/RSDR-CANYONRIDGEBR-20.pdf


Let Us Help You Upgrade Your Dreamhouse!
Installing a new garage door shouldn't be a hassle. Choose South Dakota Overhead Doors for your garage door installation. We are your go-to supplier of garage door repair, and with our 25+ years of experience, we will get the job done quickly and efficiently. We are also the area's ONLY Master Authorized Clopay Dealer offering you (and Barbie) an extensive list of custom-made and high-quality doors that you can personalize to fit your own dreamhouse.
Call us today at (605) 355-1500 to receive your free quote, or visit our Rapid City showroom located at 3280 W Chicago Street!
---
Last Modified: